Legal Issues with Charting Course for Nurse Practitioners
After becoming a nurse practitioner, I was overcome by so many fears.
What if I get the incorrect diagnosis or treatment plan?
What if I look stupid in front of my colleagues?
What if I get sued in a malpractice case?
What are the legal issues with charting I should worry about?
Unfortunately, some nurse practitioner get sued for being in the wrong place at the wrong time. Sometimes a patient will have an abnormal presentation to a disease. The patient may be more likely than other patients to sue. Or it may just be a bad situation.
While no nurse practitioner is immune to getting sued, there are a few things we can do to prevent a malpractice cause from having a negative outcome.
That is why I created The Legal Issues with Charting Course to teach nurse practitioners how to prevent a malpractice suit and put their mind at ease regarding legal issues of charting.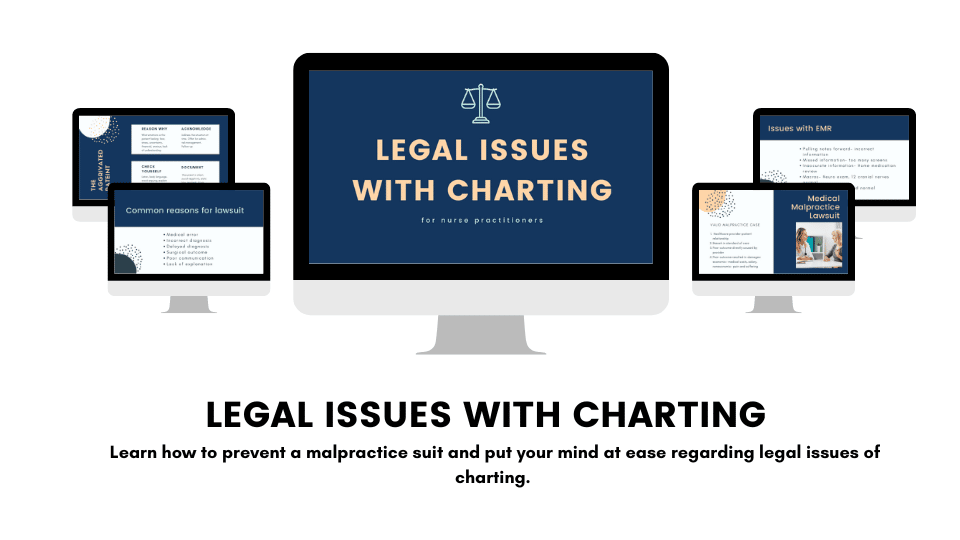 This online, self-study course will teach you
Common reasons healthcare providers get sued.
What actually makes a valid malpractice case.
The steps of a malpractice case.
Charting tips and wording to use/avoid to prevent a malpractice case.
Plus…. An exclusive presentation from a Legal Nurse Consultant!
Elisa Collins, MSN, APRN, FNP-C, ALNC, NP-CL shares her knowledge of healthcare and malpractice cases! Elisa gives applicable tips for NPs to protect themselves through clinical and documentation practices.
In this sixty minute presentation,
Mitigating Your Liability Through Strategic Documentation
Elisa breaks down:
-Percentage of cases that actually go to court
-Discussion of most commonly litigated conditions (you need to know this!)
-Do's and Don'ts of documentation to protect yourself
-And so much more!
Learn from this Elisa's as she is an expert in malpractice cases!
Learn how to prevent a malpractice case and put your mind at ease by enrolling in
The Nurse Practitioner Charting School– The one stop for all documentation resources made specifically for nurse practitioners.
Offering online courses:
Time Management and Charting Tips Course,
Billing and Coding Course: Outpatient Visits,
Legal Issues with Documentation Course,
Or get all three courses together in The NP Charting Courses Bundle!
P.S. Worried about the financial investment?
Ask your employer to cover the cost! I have had many NPs ask their boss to purchase the course or had it included as their continuing education allowance! The Legal Issues with Charting Course benefits both you and your employer!